Those of you familiar with the Eighties version of
Little Shop of Horrors
will remember Audrey, the carnivorous alien plant with a taste for human blood. Checking out the pollinator garden this afternoon, I discovered that one of our echinacea is sporting a bud with something of a resemblance to the fictional plant.
My plant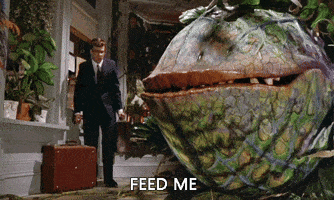 Audrey from the 1982 film
Well, maybe not
that
much of a resemblance, but this emerging flower is not your typical coneflower.
This
is the standard young echinacea blossom.
Given the internet's penchant for paranoia, a search for "daisies with double centers" brings up speculation about radiation from Fukushima, and I have no doubt that radiation can indeed cause mutation in plants. The truth, however, is that plants in the composite family are prone to anomalies in seed and bloom development. I took this photo of a caterpillar-like rudbeckia in 2011, before any radiation would have reached Ohio, if indeed it ever got here.
The phenomenon is common enough that it even has a name: conjoined daisies, though I have not been able to get much information on its cause(s). One thing to worry about is the disease aster yellows, which causes malformed plants and can hit anything in the composite family. For now, the plant with the odd bud looks healthy,
but I will need to watch it for signs of disease.
In the meantime, I am looking forward to seeing what Audrey looks like when she grows up.